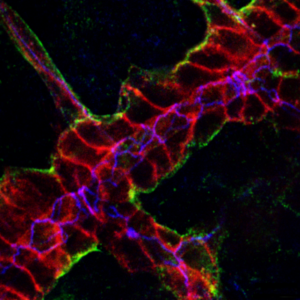 Cell and Tissue Research in Catalonia (CATCAT) brings together research groups focusing on understanding cellular and molecular mechanisms driving fundamental biological processes.
Research focuses on membranes, lipids, cell division and growth, cell migration, cytoskeleton, extracellular matrix, and nuclear organization, spanning all biological scales from molecules to cells, tissues and organisms, using a wide variety of model organisms (from yeast, Drosophila to mouse) and advanced technologies.
Research at CATCAT is highly interdisciplinary, building bridges with physics, mathematics and engineering.
The main goals are:
Increasing national and international visibility of cell and tissue biology research groups working in Barcelona, showing also the value of fundamental research in this area.
Attracting talent and increasing critical mass in cell and tissue biology in the city.
Facilitating exchange of knowledge, expertise and reagents, and collaborations in cell and tissue biology among the community.
The CATCAT initiative was spearheaded by Vivek Malhotra at the Centre for Genomic Regulation. It embraces several groups from research institutes and University departments of excellence in Barcelona, including the Institute of Bioengineering of Catalonia (IBEC), the European Molecular Biology Laboratory (EMBL) site in Barcelona, the Department of Health and Life Sciences at the University Pompeu Fabra (UPF), the Institute of Molecular Biology of Barcelona (IBMB), the Institute of Photonic Sciences (ICFO), the Institute for Research in Biomedicine (IRB) and the Centre for Genomic Regulation (CRG).
Keywords: membranes, lipids, cell division and growth, cell migration, cytoskeleton, extracellular matrix, and nuclear organization